Reports
13 Jul 2022

1 Minute to read
Reports
Updated on 13 Jul 2022

1 Minute to read
---
Introduction
Basic reports are included in the app as a template to give you a sense of what fields can be filtered on and what type of metrics you can yield. We recommend starting with these Reports and editing them to reach your desired metrics.
Lightning: Click on the app launcher | Under "All Items" | Click on Reports.
Classic: Click on "All Tabs" ("+" icon in the top right) | Click on Reports.
In the left-hand column, click on the "Blackthorn | Payments Reports" folder.
Out of the Box Reports
The below Reports are all accessible when installing Blackthorn | Payments.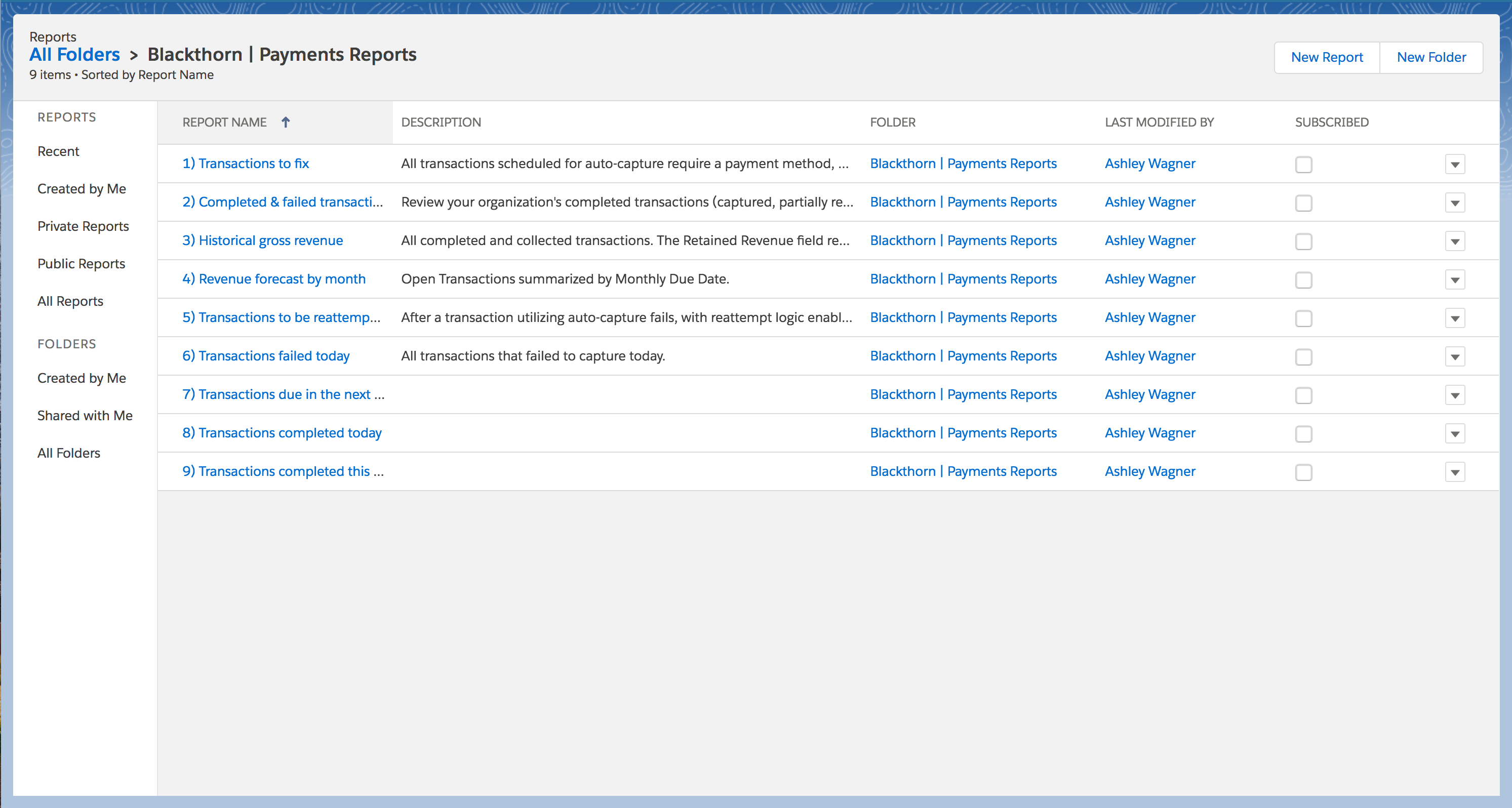 Transactions to fixAll Transactions that need to be fixed and have an "Open" status.
Completed and failed TransactionsAll completed and failed Transactions by month.
Historical gross revenueAll successful Transactions.
Reconciliation and Payouts - All payouts with their related charges and refunds.
Revenue forecast by month"Open" status Transaction by monthly due date. coming soon
Transactions to be reattemptedTransactions that have been created with reattempt logic.
Transactions failed todayTransactions that failed to capture today.
Transactions due in the next 7 days Transactions with "Open" status and Due Date within 7 days.
Transactions completed todayTransactions that were "Completed" and "Captured" today.
Transactions completed this month Transactions that were "Completed" and "Captured" this month.
Next Steps
Use our "out of the box" Dashboard to see your Report data in a variety of displayed components.
Troubleshooting
If you have received an error with our Reports or have a question, please view our Troubleshooting page. If you still have Default Payment Method questions, please contact Blackthorn Support. We're happy to help!
---