Installation Instructions
13 Jul 2022

1 Minute to read
Installation Instructions
Updated on 13 Jul 2022

1 Minute to read
---
If you are using the Candy Shop for the first time, please review the instructions below. This example follows a user installing Events, but the steps are the same for Payments, Compliance, and Messaging.
Current Limitations
The Candy Shop is in its first iteration and includes the following limitations.
Candy Shop

does NOT assign permission sets to any user other than the installing user.

Candy Shop

does NOT currently install or authorize PayLink. This step is still the final task in the Payments Setup Wizard.

Candy Shop

does NOT currently authorize DocumentLink.
Blackthorn Donations is NOT and will not be included as an offering in the

Candy Shop

.
---
If you are installing Events for the first time, the installer will automatically install the Base Package first, then Payments, and lastly Events. If either Base Package or Payments are already installed, the installer will ensure the correct versions are installed or upgraded before installing Events.
1. Go to the Blackthorn Candy Shop.
2. Click Blackthorn Events.

3. Click Install Blackthorn Events - Click Here for Details.

4. If you are not logged into Salesforce, you will be prompted to do so now.
5. Click Allow to allow Blackthorn to access the following information.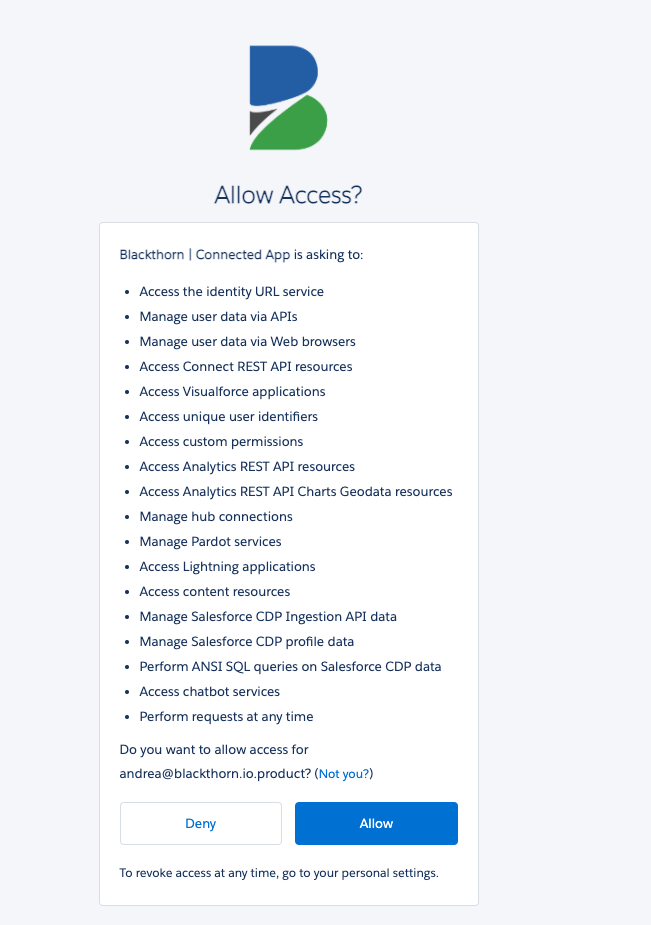 6. Click Install.
As each step is completed, a green checkmark will appear in the Install column.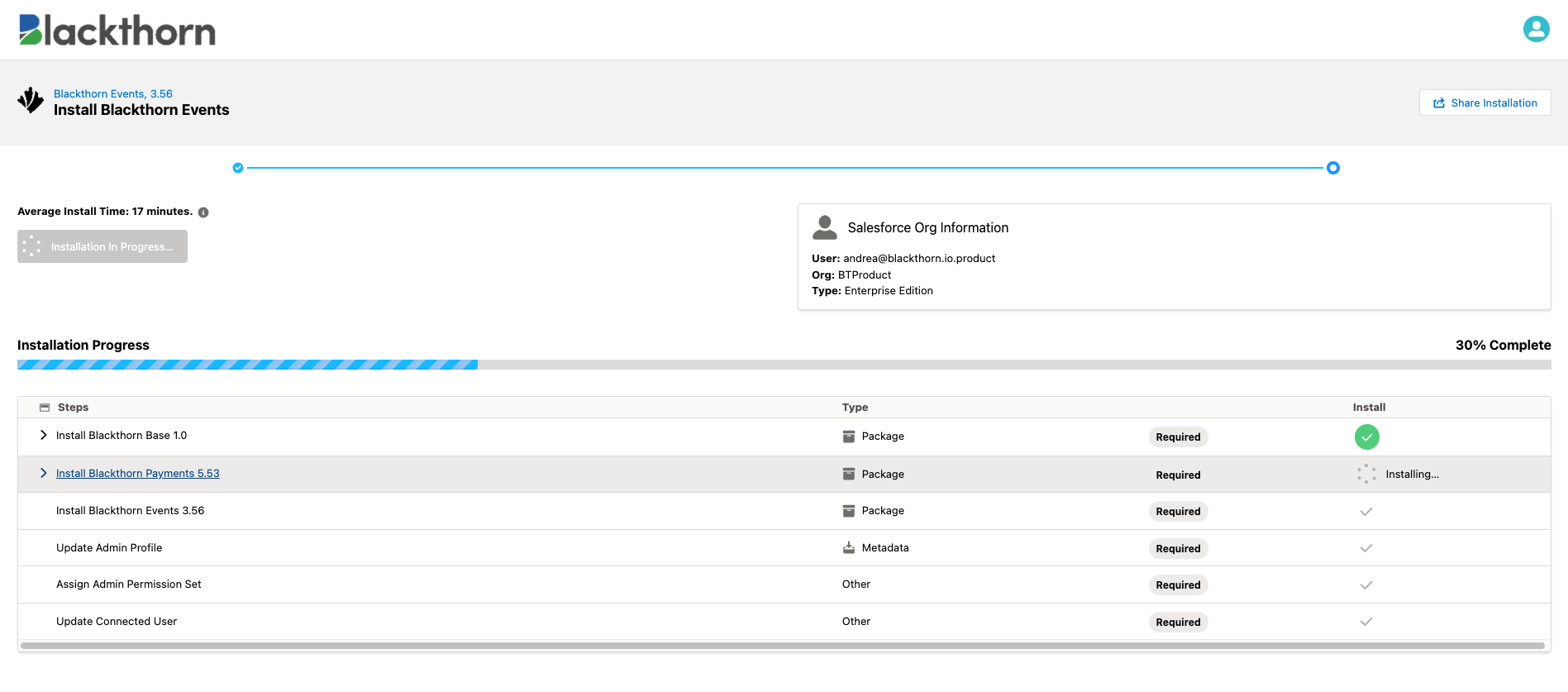 7. For new installs, the Candy Shop will take care of the following configuration steps for Events.
* Install BasePackage
* Install Blackthorn Payments
* Install Blackthorn Events
* Assign Blackthorn | Events (Admin) and Blackthorn | Payments (Admin) permission sets to the installing user
* Automatically schedule Events Scheduled jobs
* Authorize the Event App as the installing user
8. The installing user will receive the following email alerts.
* BasePackage install successful
* Payments Package install successful
* Events Package install successful
* Payment Gateway Customer Matching Rule activated
* Attendee Matching Rule activated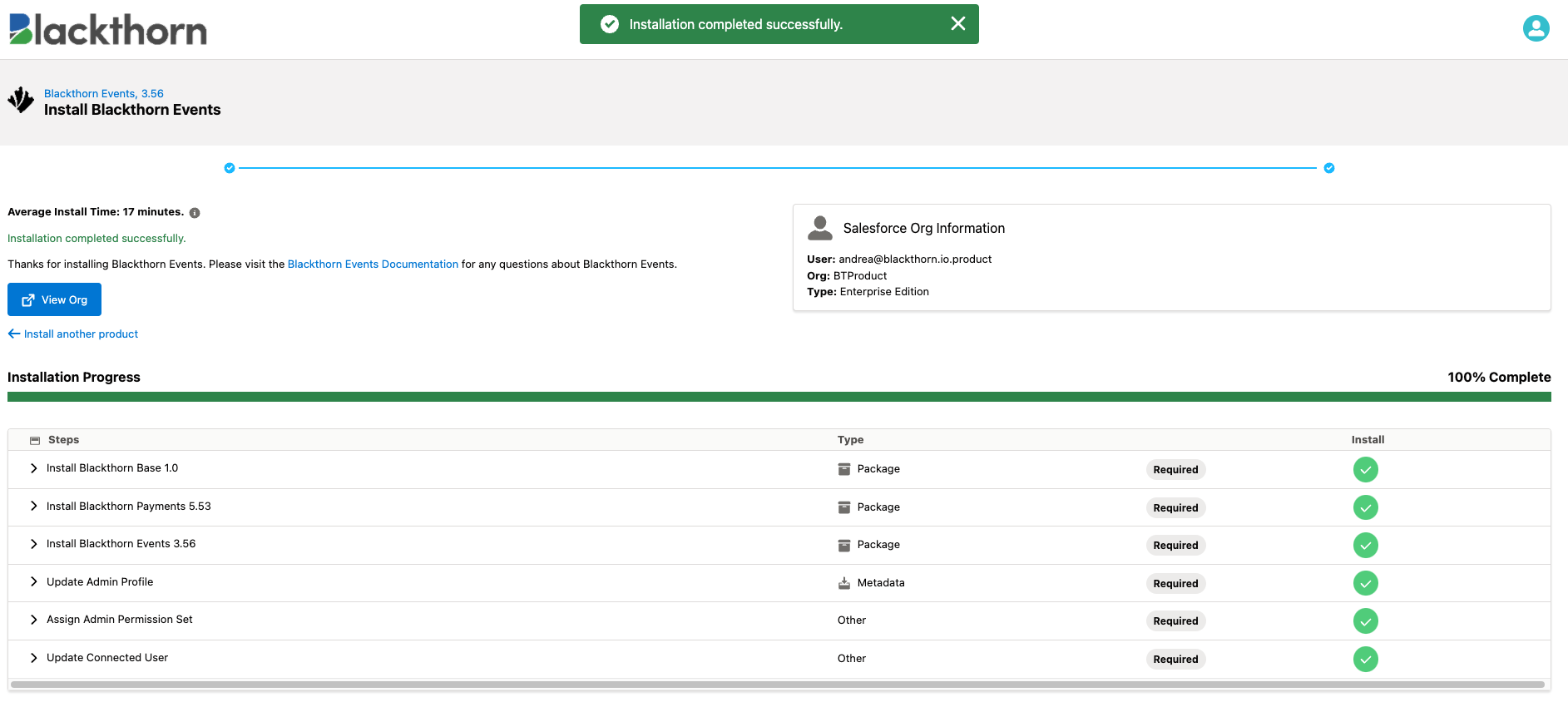 ---
What's Next