Tickets
13 Jul 2022

1 Minute to read
Tickets
Updated on 13 Jul 2022

1 Minute to read
---
Out of the box, you can create a free or paid ticket, provide a description, define the sale start and end date, and track the sold quantity and net revenue. In addition to the items just described, we also provide the following features.
Min & Max

"Ticket"

(

Event Item

) Quantity Per Order
Customize

Attendee Form
Attendee Form
There are several fields on the Attendee Form where you can hide, make required, or show as optional for each ticket.
For example, if you have a "Child Under 3 Yrs" ticket for sale, odds are that child does not have an email address. You can hide the Email field from this ticket's Attendee Form. If they do, well... then you are an exception to this example.
Update Picklist Values
Depending on your use case, set each field's picklist value to either "Required", "Optional", or "Hidden".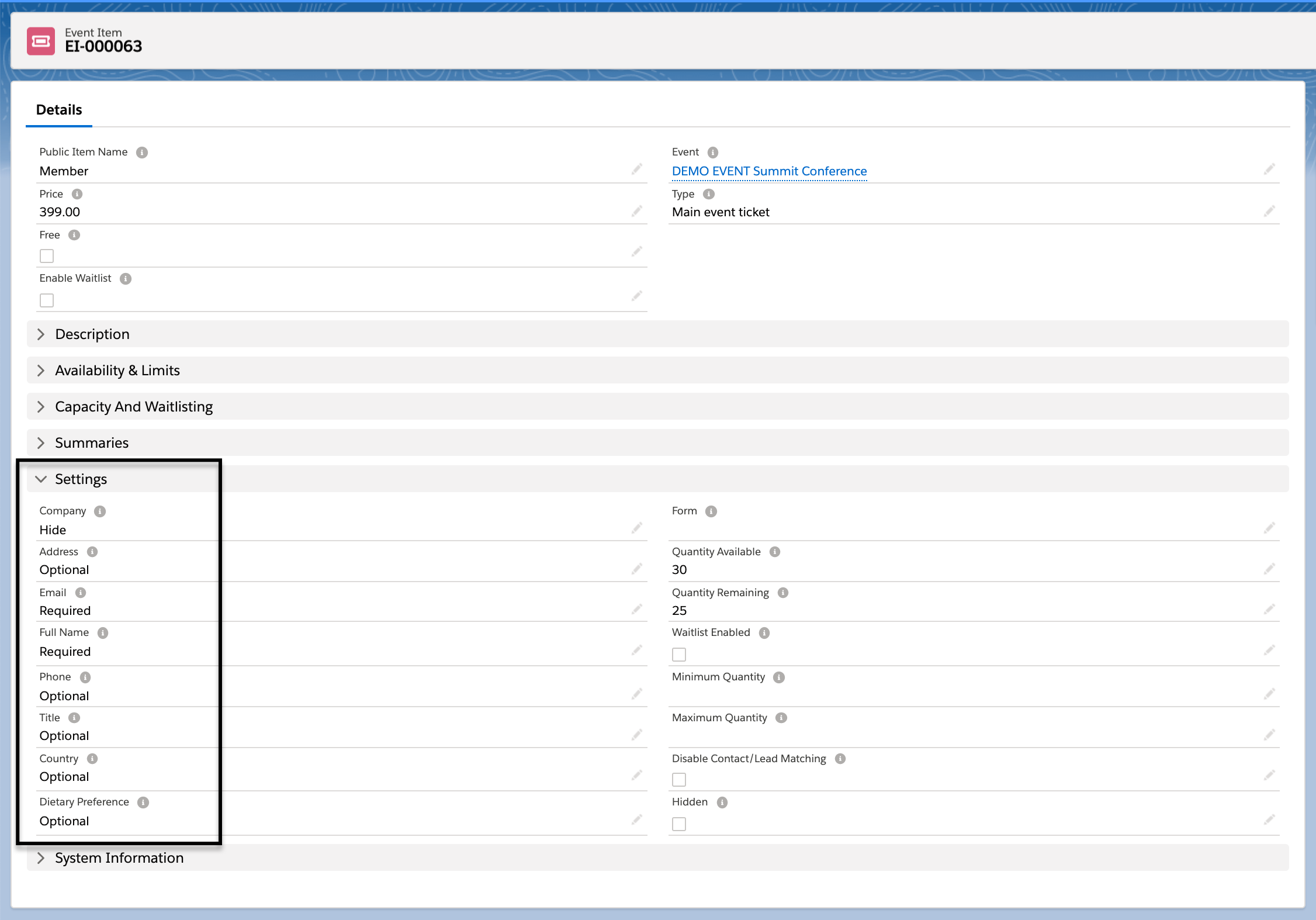 View the Live Attendee Form
Order Min & Max Quantity
Set the minimum and the maximum number of Tickets (Event Items) allowed per order by updating the Minimum Quantity and Maximum Quantity fields on the Event Item record.
The
Maximum Quantity
cannot be larger than "10" per the Salesforce Validation Rule.
Define the Min and Max Quantity on the Event Item
Edit the Event Item page layout and add the Minimum Quantity and Maximum Quantity fields to the page layout.

Name the new Section. We recommend "Restrict Quantity Per Order".

Go to the Event Item record and update the Minimum Quantity and Maximum Quantity fields.

Save and View Changes
Navigate back to your

Event

record.
Click on the Event URL link.

---
The following video shows that the Ticket (Event Item) Ticket has a Minimum Quantity = "2" and Maximum Quantity = "10".

---
What's Next