Donations
26 Jul 2022

1 Minute to read
Donations
Updated on 26 Jul 2022

1 Minute to read
---
Share feedback
Thanks for sharing your feedback!
The "Donations" section will be updated automatically when the Events app is installed and/or upgraded.
Out of the box, you can create a Donation, provide a description, define the sales start and end dates, and track the quantity sold. In addition to the items just described, we also provide the features covered below.
Event Page Layout
The section "Donations" was added to the Event page layout. The Products section will include the following fields: Item Name, Attendee, Attendee Full Name, Event, and Unit Price.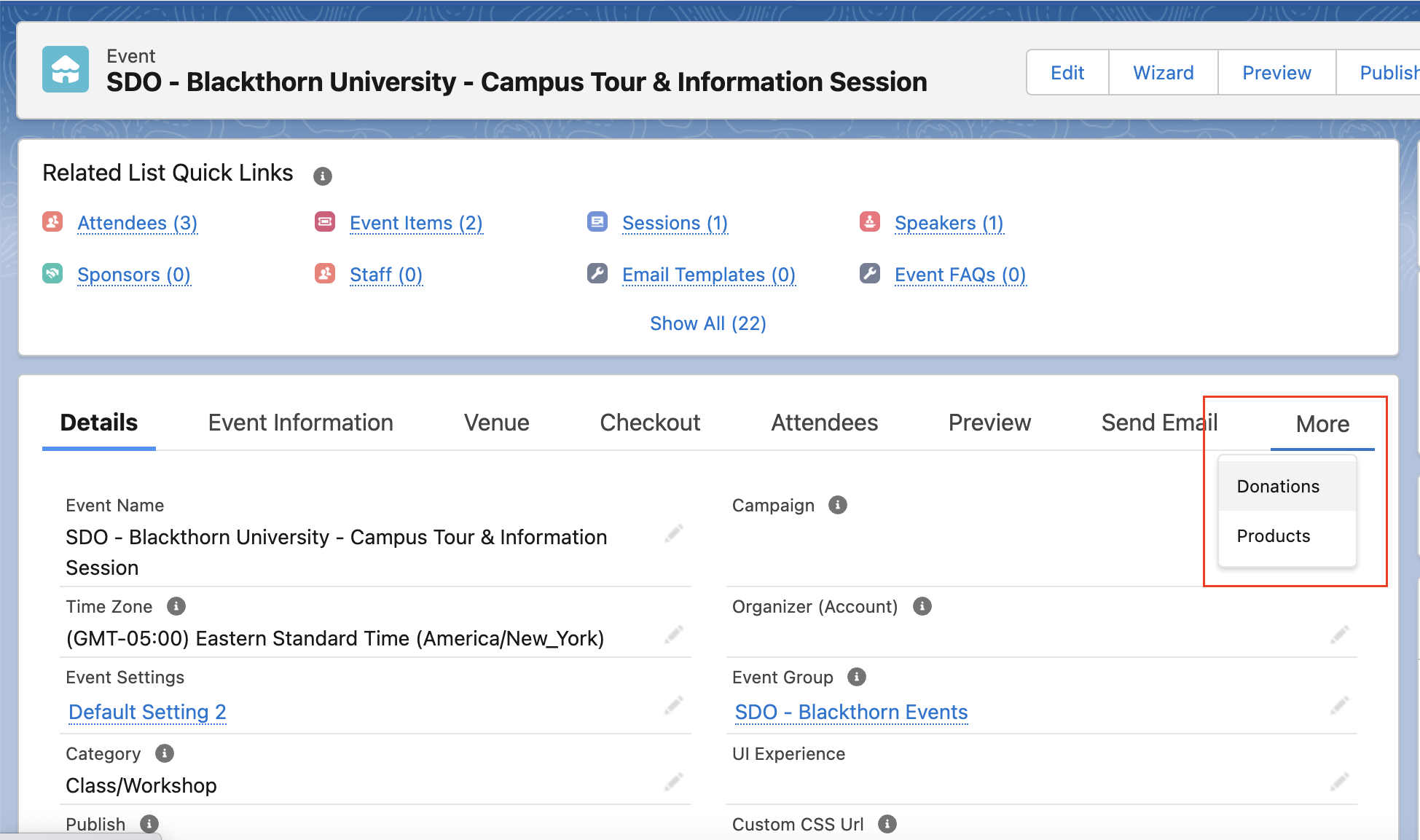 ---

Attendee Record
There are multiple fields on the Attendee record that determine what is included on the Attendee Form during checkout. This is where you can hide fields, make them required, or show them as optional.
Update Picklist Values
Depending on your use case, set each field's picklist value to either required, optional, or hidden.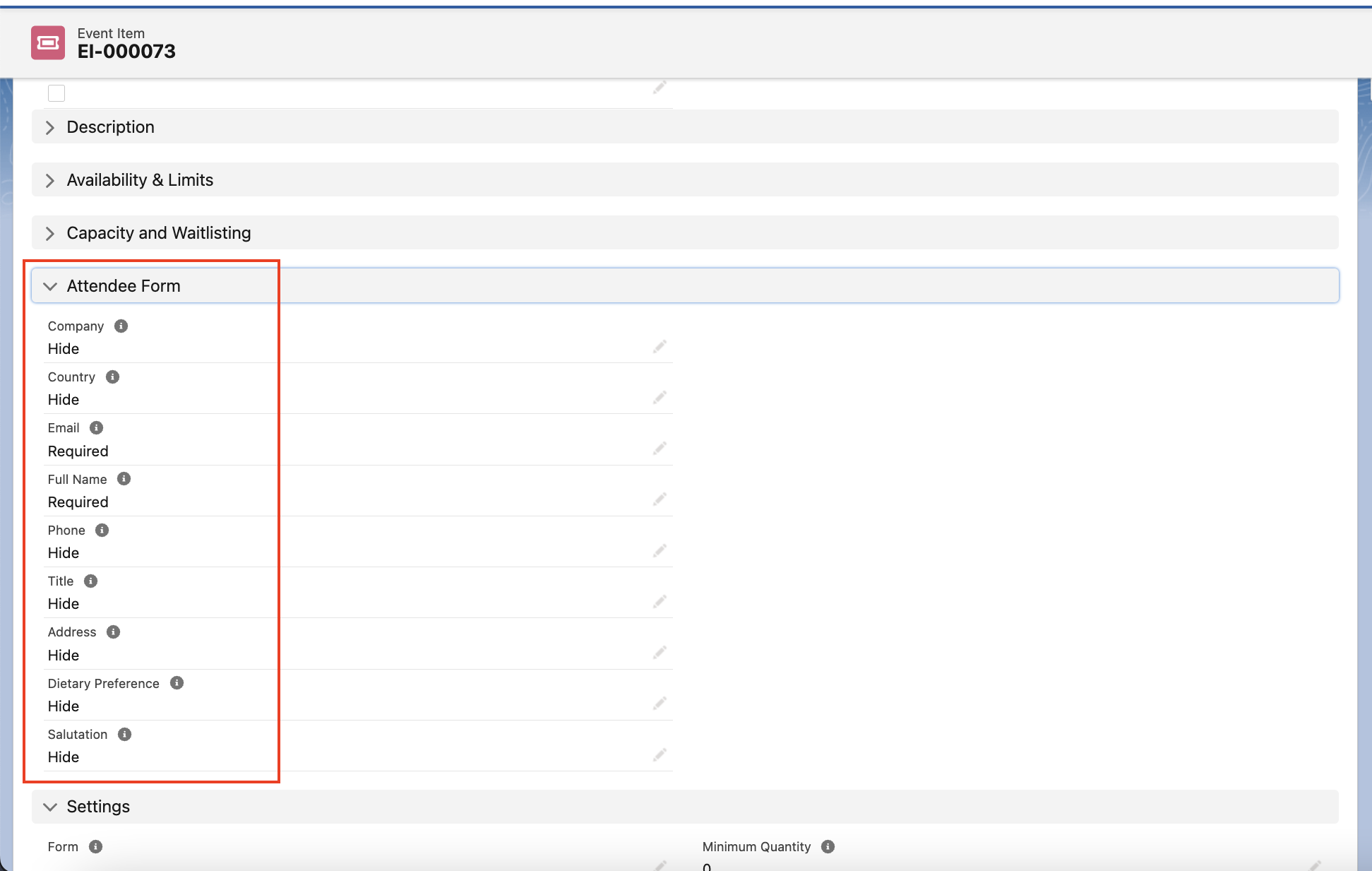 View the Live Attendee Form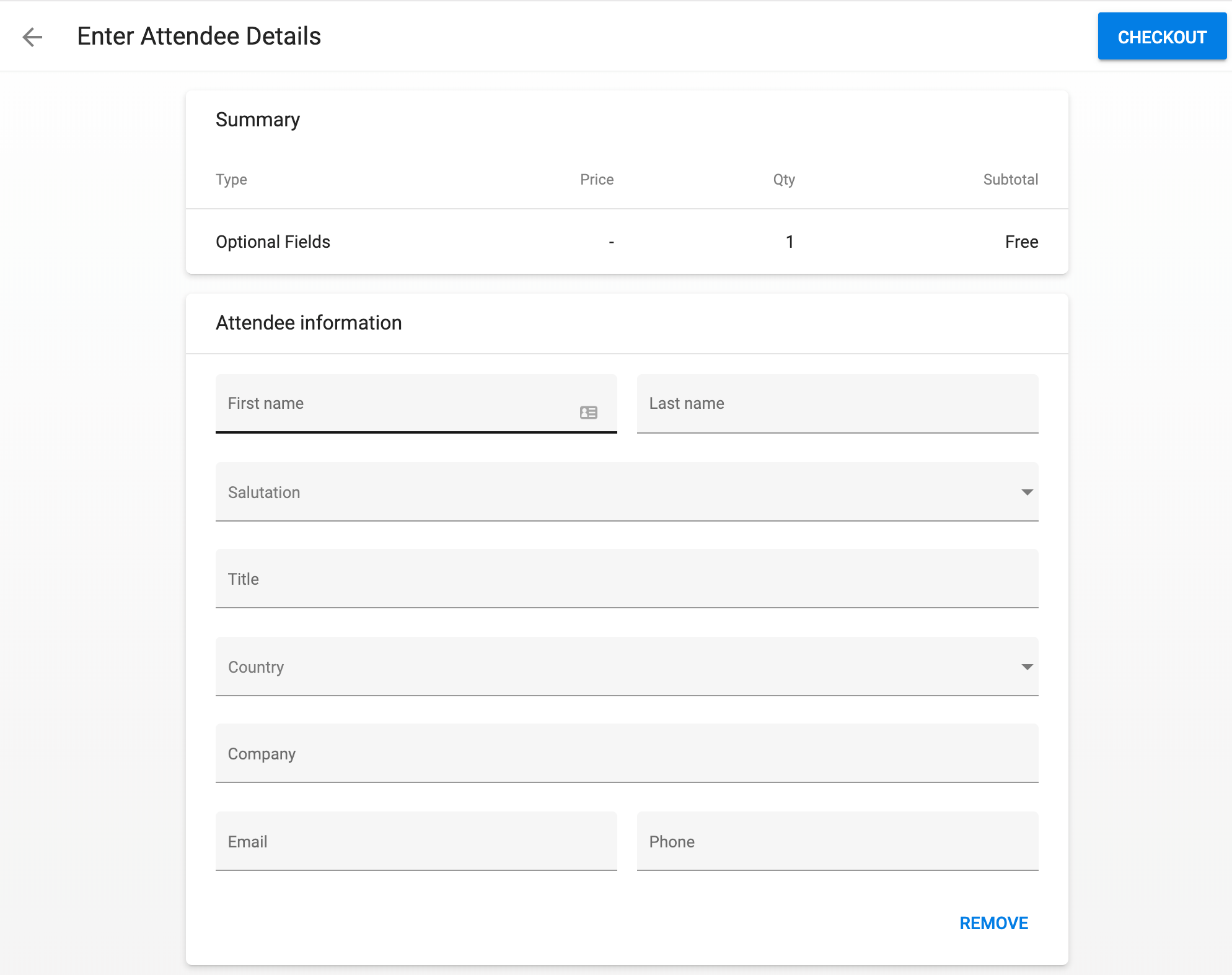 New Fields
As the Donations feature grows, new fields and functionality will be added. This section will provide information about each one as it is added.
Event Item Type
Location:

Line Item

object
Purpose: a text formula field that shows the type of

Event Item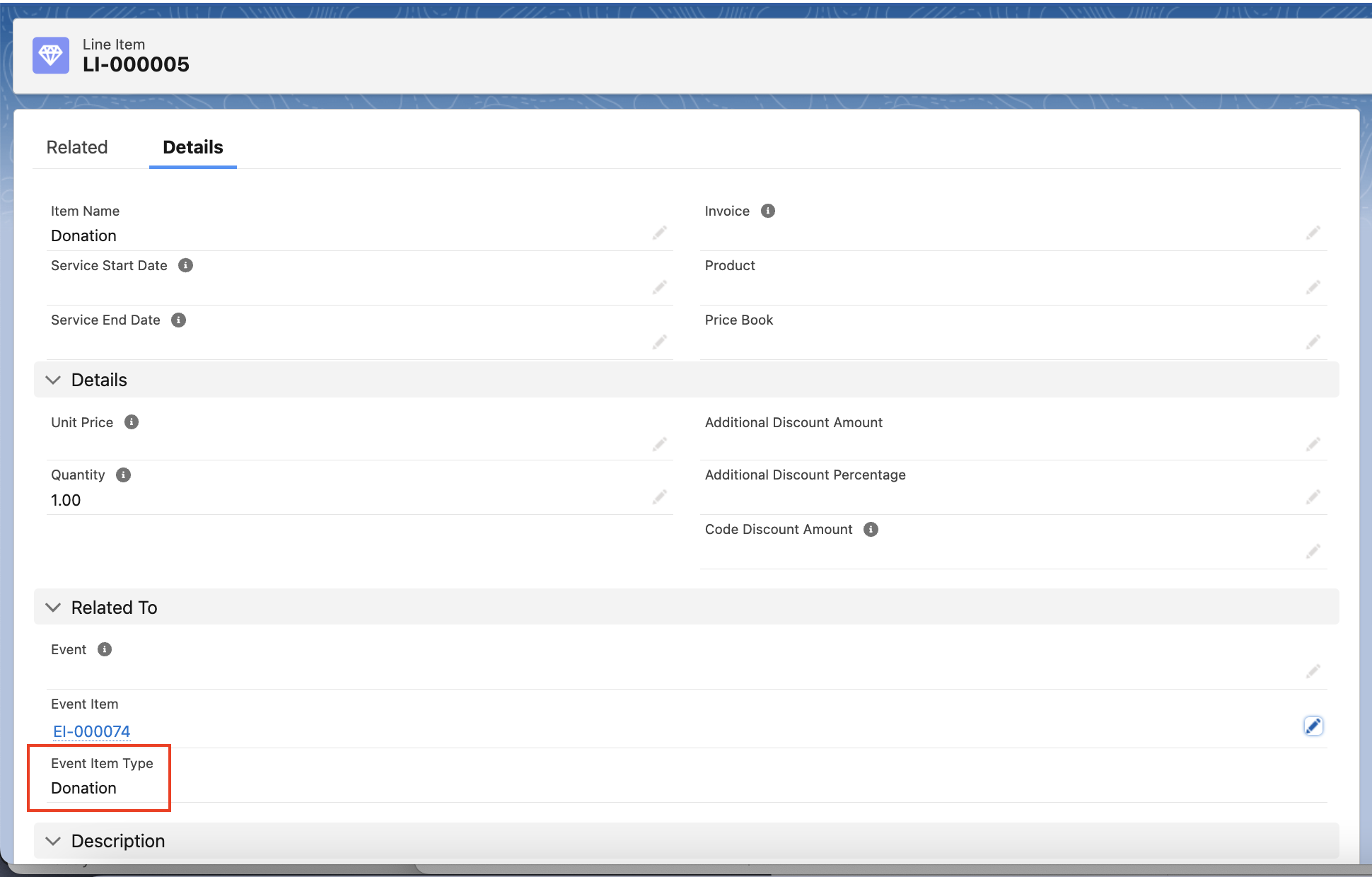 Donated
Location:

Attendee

object
Purpose: a checkbox field that shows whether an

Attendee

gave a

Donation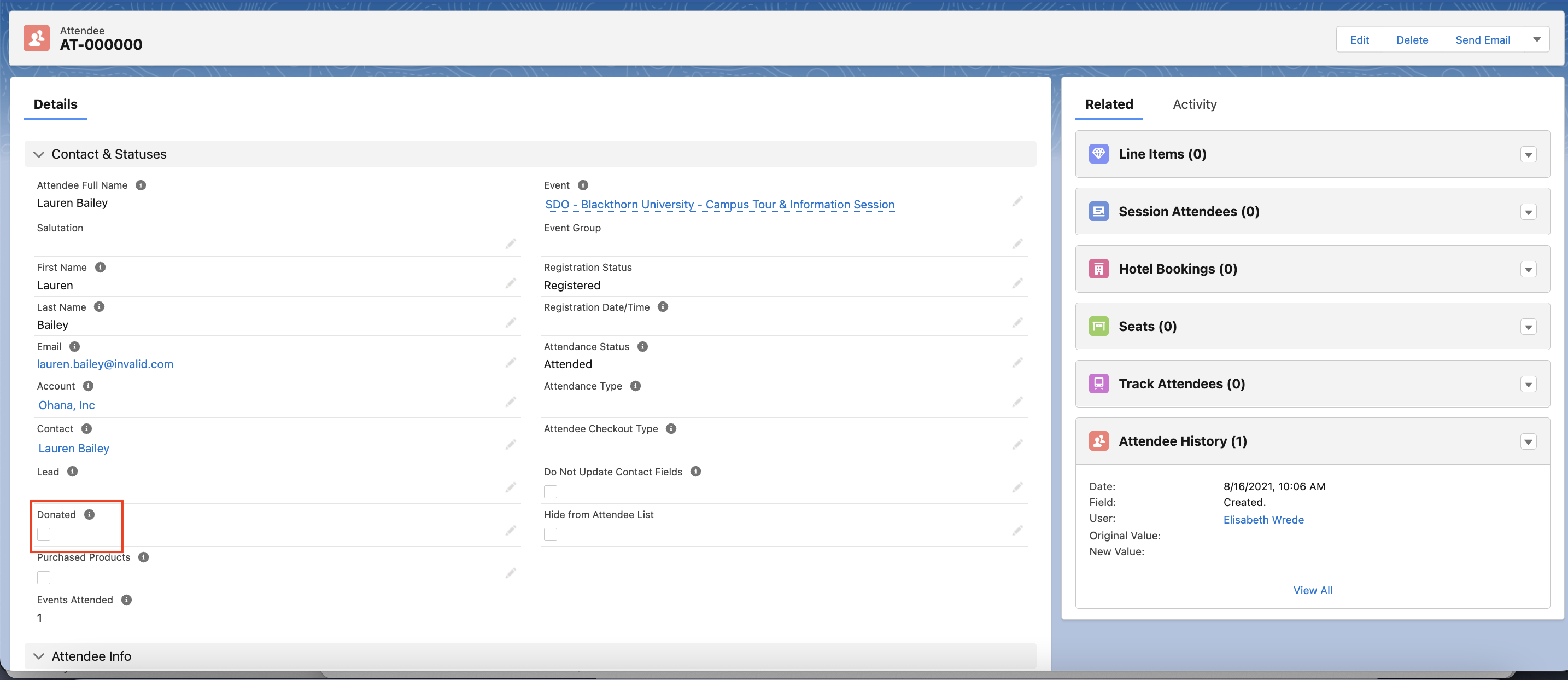 The new Donated field on the Attendee object needs to be added manually as it is not added by default to the page layout.
Functionality
Event Item Record
If a

Donation

is added to the Event Item, it will be carried to the Line Item on the Invoice.
The Event Item Type for a

Donation

is "Donation".
Line Item Record
The Event lookup field has been added to the Line Item record to show which

Event

the

Donation

is related to.
Checkout Process
Registrants can either choose from a list of pre-selected amounts or enter a unique amount for a

Donation

.
Images are now supported during checkout.
A

Donation

's information is added to a selected

Attendee

when the

Donation

is added to the cart.
If a

Donation

's information has not been added to an

Attendee

, the

Donation

's Information will be added to the first

Attendee

.

Donation

data will be added to the checkout payload.
Custom Forms are supported for Donations.
---
What's Next