Clone
19 Sep 2022

1 Minute to read
Clone
Updated on 19 Sep 2022

1 Minute to read
---
Need to duplicate your Event quickly with all of the related information like Attendees, Event Items, Sessions, Sponsors, Form Elements, etc? Now you can, in three simple steps with our Clone feature!
Before You Clone
First you will want to ensure that all fields you wish to clone are on our Deep Clone field set
To review these fields
Navigate to Setup > Object Manager > Event > Field Sets > Edit the Deep Clone Layout.
Drag and drop the field into the field set.
Click Save.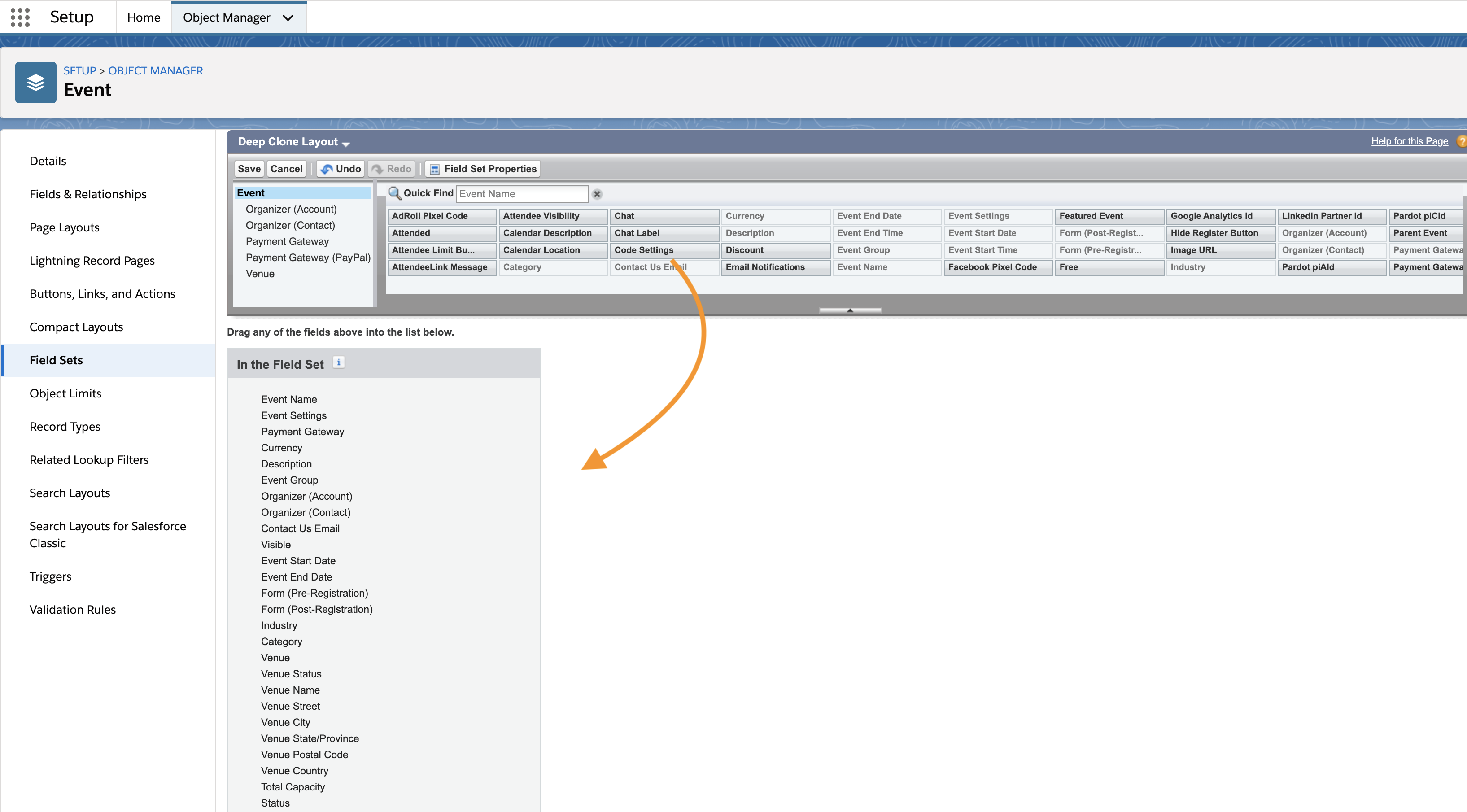 Classic/Lightning
Go to the Event record and click the Clone button. To select all objects at one time, click the Clone All button.


Select the Related Items.
The right side of your screen will display a list of all related items. Toggle the Clone button to select which Related List should also be cloned. Leaving them gray will not clone the Related List.

Example: If I wanted to clone the "Speakers"

Related List

to my new

Event

, I would toggle

"Active"

.
Example: If I didn't want to clone the "Staff"

Related List

, I would leave it as

"Inactive"

.


Click the Clone button.
Once you click the Clone button, a new Event will be created.
Custom Questions (Form) Clone
To deep clone forms in lightning experience:
Edit the

Form

page layout.
Add the custom Clone button from the previous Mobile/Lightning actions.

Select the

Form

to be cloned. Click the Clone button. The

Form

and accompanying questions are cloned.

Add a Custom Field to the Clone Feature
Lightning
Create a custom field (Random Field) on the Event object.


Edit the field set within the Event object and add the custom field (Random Field).


Save the Event object and clone the Event. You can now see the custom field (Random Field) is ready to be cloned.

Related Lists
After cloning an Event, the Related List on the cloned Event will follow the page layout that is assigned to the user profile of the individual who cloned the Event instead of the Standard Event Page Layout.
Cloning with Sessions
When cloning an Event with Sessions in it, the Start Date, Start Time, End Date, and End Time of the cloned Sessions will automatically be reset and need to be filled in again.
---
What's Next