Enable Cookies
13 Jul 2022

1 Minute to read
Enable Cookies
Updated on 13 Jul 2022

1 Minute to read
---
With the implementation of Google Tag Manager, Blackthorn Events is now required to meet GDPR and California data law standards. This includes allowing users to accept or reject the usage of cookies.
Cookies are messages that web servers pass to your web browser when you visit internet sites. Your browser stores each message in a small file, called "cookie.txt". When you request another page from the server, your browser sends the cookie back to the server. These files typically contain information about your visit to the webpage, as well as any information you've volunteered, such as your name and interests.
The Cookie Consent Banner that appears after clicking into an Event URL includes Accept and Reject buttons. A user must select Accept for tracking to occur. Otherwise, cookies will not be used.
This feature is disabled by default, if you would like this feature to be enabled, please reach out to Blackthorn Support.
Below is an example of what accepting cookies would look like in your Event.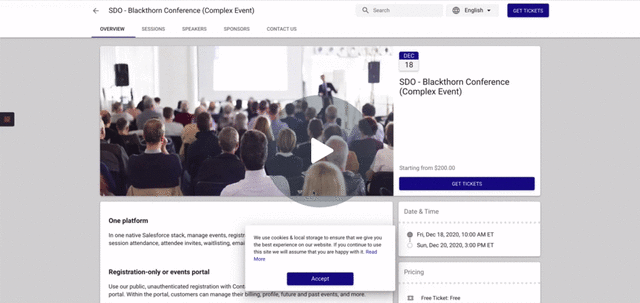 ---
What's Next